Description
For a full diagram guide on how to use Gem Lites Colorwash as well as color recommendations for different levels of hair color, click here.
Do you have Joico or Redken color in your hair? Make sure to consult the color conversion charts below with the respective ratios to create the Celeb Luxury color combinations that perfectly match your color to maintain and refresh those shades.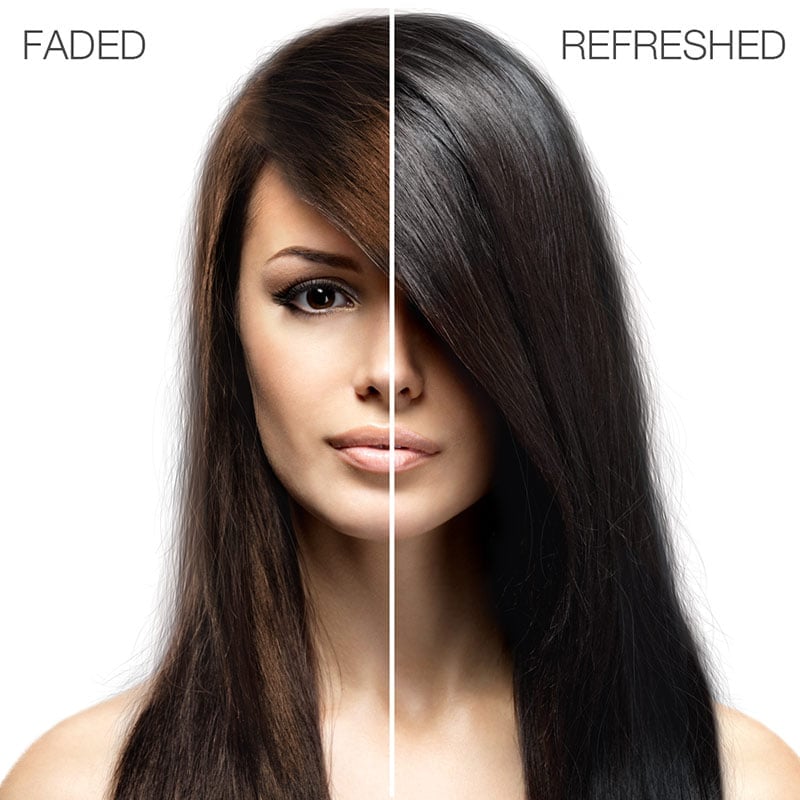 More information is also available in included videos on right side of the page to show end results and how to use the wash.
Not sure about the uses and benefits of Gem Lites? Not sure which color is for you or how a wash will affect your color? Make sure to check out this information chart for more details on the end result using a particular color on your specific hair color.
How to use:
After using Gem Lites® Colorwash® at least once and had color deposited on the hair:
Option 1 – To increase depth of color: use Colorwash® continuously every time you plan on washing your hair until desired color shade achieved. Once color is achieved, adopt Option 2 below.
Option 2 – To maintain certain color depth/shade: use Colorwash® and alternate with Shinewash® for added shine or Moisturewash™ for added moisture. Alternating with these no color shampoos will prevent the color from becoming more intense. Other professional shampoo brands can also be used.
Option 3 – To change color from existing color to darker: use appropriate darker color continuously until darker color achieved. Once reached, adopt Option 2 above.
Regardless of method, it is recommended to use an optimized conditioner such as Bonditioner® for shine or Blonditioner® for moisture and Anti-Tangler Styler after every wash to seal the cuticles, protect and seal the color and to create a protective barrier against external elements such as UV light that can distort color. Other professional conditioners can be used but color is optimized when used with either of the two suggested.
FAQ
How often can I use Colorwash®?
Start using Gem Lites® Colorwash® right after any color service. Adopt an option listed above. Continuous use prevents color from looking washed out and faded. Those with more than one highlight color should choose the color that best matches the lightest color in their hair. Use every time you want to refresh colour, intensify the shade or darken the colour. You should not use use a lighter Colorwash® than the color of your hair as it will not lighten.
How long does the color last?
Gem Lites® Colorwash® are semi-permanent direct dyes intended to add and hold color, but gradually wash out from the hair if alternated with a no color clarifying shampoo. The intensity and durability of the colour is dependent on the condition and porosity of the hair. More lightened hair means more intense and long-lasting color. Color remains the same if you alternate with a no color shampoo or steadily becomes more intense if you continously use the Colorwash® only.
Can I use my current shampoo to alternate with Colorwash®?
Shinewash® and Moisturewash™ are the alternating shampoos that has been optimized to be used with Gem Lites® Colorwash®. Other shampoos can be used but color consistency may not stay the same.
Will it cover grey or virgin hair?
Gem Lites® Colorwash® will not cover grey or virgin hair. It will also not lighten dark hair. It will add bright tones or make light hair appear deeper and richer based on selected color and method. Gem Lites® Colorwash® Brown Tahitian Pearl will gradually enrich the color of grey, virgin hair.
Can these be used with a keratin treatment?
All products are suitable for hair that has a keratin treatment. It also works well for virgin hair.
Can I use both the Gem Lites® Colorwash® and the Gem Lites® Colorditioner® together?
Yes, you can use the Colorwash® and the Colorditioner® together. It can be done to create a custom color or to deposit the most amount of pigment. It is important to remember if you choose to do this, to alternate and have a day in between, that you use a clear shampoo and conditioner. This will keep from depositing too much color to the hair.
What color should I use if I have highlights in my hair?
Match the Gem Lites Colorwash® color to the color that best matches the lightest color highlight in the hair or to the desired color of your highlights.
Does Gem Lites Colorwash® stain?
Colors are formulated to maximize color deposit on the hair while minimizing staining on hands and scalp. If your hands and scalp are dry, they may stain slightly. If you experience staining, simply wash the area with soap and water immediately after applying.
How do I remove Gem Lites Colorwash®?
To remove color, stop using Gem Lites Colorwash® and switch to a clarifying shampoo. The durability of the product on the hair is dependent on the condition and porosity of the hair, the intensity of the shade and how often it was used. The lighter colors (Flawless, Silvery Diamond, Sunstone and Sandy Opal) wash out quicker with clarifying shampoos. The darker colors (Fire Opal, Ruby, Amber, Star Sapphire, Cocoa Quartz and Tahitian) will take longer to washout and may need a liquid lightener to fully remove.
Color Shampoo
Maintains and boosts traditional haircolor.
Stops fade. Extends color. Sulfate-free.
100% vegan. No animal testing. Cruelty free.

Our specialty is haircolor cleansing and conditioning.
Our vision is for you to love your haircolor.
We make color fade a thing of the past.
For luxurious and healthy hair.
About Us
Stop Fade. Extend haircolor happiness. Our products are 100% Vegan, Gluten-Free. Sulfate-Free. PPD-Free. Ammonia-Free. Peroxide-Free. Cruelty-Free. No Animal Testing. Health and safety are important to us. We only use direct dyes that are safe and FDA/EU compliant.

Awards
Voted #1 Hair Product worldwide at Cosmoprof Bologna 2018, the global industry's most prestigious award for mass and professional products.