Description
straightener accessories & treatment liquids
protect against heat damage
How to straighten:
Before use, make sure the hair is clean, dry and tangle-free

Run the straightener through the entire length of the hair without stopping

Use a comb whilst straightening for even straighter results

Repeat only twice per section to prevent hair damage
How to curl:
Before use, make sure the hair is clean, dry and tangle-free

Clamp a section of hair in between the plates of the styler, pointing the styler downwards

With your free hand, hold onto the ends of the hair

Rotate the styler 180º towards you and glide down the length of the hair until you reach the ends

Release the hair from between the plates and finish the style with your fingers

Tip: for thick/curly hair, use a higher heat setting, and for fine hair, use a lower heat setting
---
Aftercare products ideal for use after a Brazilian keratin treatment. Essential for optimal quality, integrity and longevity of the treatment so it looks and feels better for longer. Also ideal for untreated hair. Brasil Cacau's range of home care products are specifically developed to reduce frizz, tame fly-away strands, improve and maintain hair straightness and introduce long term shine.
Unsure what a Brazilian hair treatment is or have questions? Make sure to consult our Frequently Asked Questions page.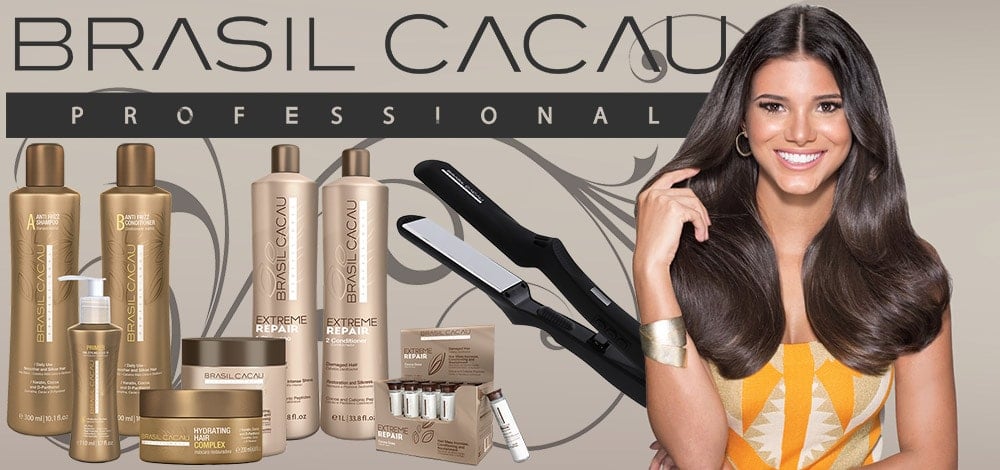 Get Fabulous with Perfect, Straight Hair
Authentic hair care solutions straight from Brazil. A legacy brand as one of the most popular choices for straightening and smoothing treatments. Introducing a range of aftercare products for unmatched reduction of frizz for fabulously silky-straight hair that is easy to style and maintain. Spanning over 70 countries, Brasil Cacau has allowed everyone to achieve their hair dreams.
Variety of Benefits
Brasil Cacau's extensive range of aftercare products have transformed hair from dull to amazing for decades. Every product is easy to use and highly effective for all hair types. Their range of products have gained a reputation of quality for reducing frizz, improving shine, extending the life of keratin treatments, repairing damaged and dry hair, protecting hair from the environment and more. Whatever your need, Brasil Cacau has something perfect for you.