Description

The colour-depositing shampoo + conditioner for all hair types.
Cleanses & Refreshes
Adds Colour
Stops Colour Fading
Nourishes & Strengthens
Adds Shine & Softens
A system that INSTANTLY intensifies color while cleansing and conditioning with every wash. Refresh permanent or semi/demi-permanent colours in a flash.
Now you don't have to add 20 or more minutes to your shower routine (you're welcome, roommates!) with this SUPER convenient colour product! Combine three crucial steps in your hair colouring process into one product. Apply as a normal shampoo or conditioner and see the magic happen!
This is done without sacrificing any colour vibrance, silkiness, or level of cleanliness. Add striking colours, maintain vibrancy and improve shine. Use it every day for full-throttle hair colour that never loses any juice, or sparingly when you only need some colour touch-ups. Expand your creativity!
Washing your hair is fun again.
---
How it works:

Cationic amino acids and intense colour pigments anchor to the cuticle for maximum deposit and vibrancy. Anionic amino acids create a scaffold around the hair to protect the strands and colour. This creates a protective barrier that will make colour last longer, while improving shine. Helps to replenish lost moisture to retain hair colour for beautiful hair.
3-in-1 is a colour refreshing shampoo conditioner that is used to refresh color, NOT replace it. It fades with several washings with regular shampoo. The fade is tone on tone.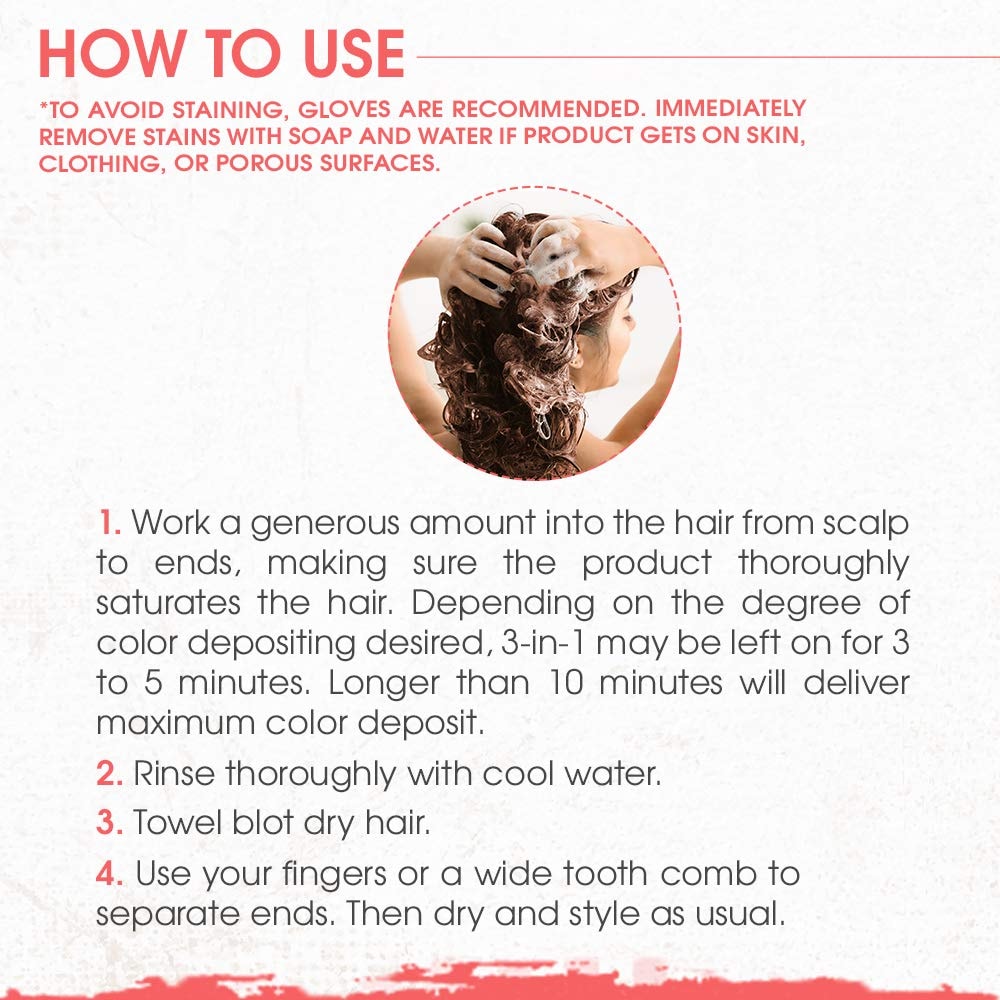 ---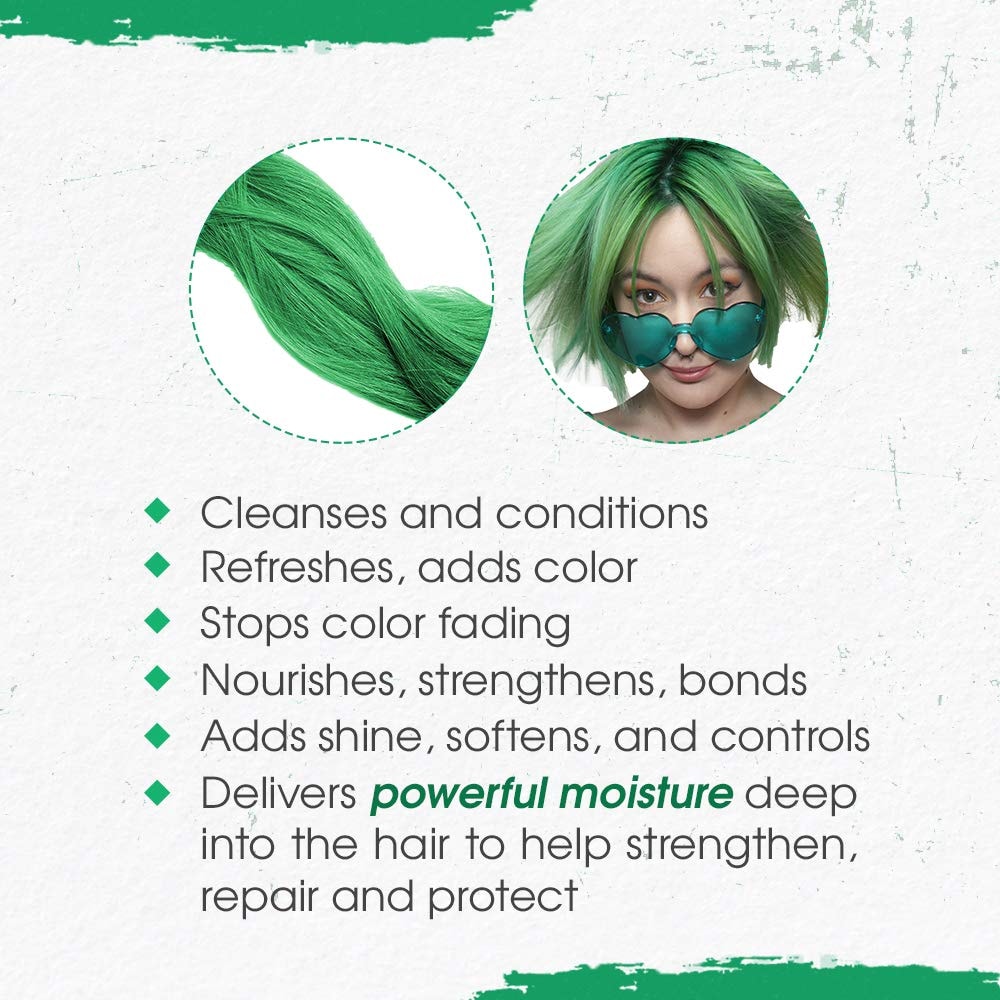 ---
FAQ
How does 3-in-1 compare to traditional semi-permanent colour?
3-in-1 is a colour refreshing shampoo conditioner that is used to refresh color, NOT replace it. Use 3-in-1 to refresh, maintain and boost colour as you need. It fades with several washings with regular shampoo. The fade is tone on tone.
How many uses can you get per bottle?
Depends on length of hair and number of times you shampoo a week. Since the product comes in an 250ml bottle and you use 30ml per application then you could use the product 8 ½ times. Shorter hair means the less you would use per session.
How do you remove Punky Colour if you do not like the end result?
Shampoo with a strong cleansing or clarifying shampoo to remove as much colour as possible. You should condition after to maintain the hair's integrity.
Does Punky Colour need to be applied only to bleached hair?
3-in-1 is primarily a colour refreshing shampoo + conditioner, and usually the hair is bleached when an intense demi-permanent is applied. However, the product can be used on hair which is not bleached to a limited effect to achieve more of a shimmer or a tonal effect. The intensity is determined by the degree of the hair's porosity.
Does 3-in-1 Diamondista tone or will it give the silver/platinum look that is in high demand?
This product does not replace a demi-permanent colour. It is a colour refresher, so it acts more like a toner than a demi-permanent colour. It will impart the silver/platinum shades on bleached hair.
Does 3-in-1 intensify if you leave it in the hair longer?
You will get more deposit if you use it past the recommended 3-5 minutes. However, it does not guarantee it will last longer, and unlike a demi permanent colour, it may not deposit pigment uniformly as it has a conditioning shampoo base, not a true colour base.
Does 3-in-1 work on black hair?
If you have "virgin" hair that is not chemically treated in any way, the only benefit you probably will experience is very conditioned and shiny hair. There might be some tonal effect but it really depends on the degree of porosity.
Does 3-in-1 have any harsh chemicals?
All colours are sulphate, paraben, ammonia, peroxide, PPD and gluten free. Its also vegan and tested on humans.
Does Diamondista help keep hair grey or black?
It works best if you have bleached hair so the true colour can come through. It will not change your natural hair colour but it will add a hint of silver to your hair colour. Any level of brown or black may become slightly darker but unless the hair is very porous, the effects will not be noticeable.
Can 3-in-1 touch up roots or cover grey?
3-in-1 is a colour refreshing product, meaning it cannot cover grey and will not touch up roots.
Can 3-in-1 be used on damaged hair?
All colours are developed specifically for hair that has been pre-lightened or bleached. Punky took the most damaged hair and created a formula that would restore it to its natural softness, shine and condition. The ingredients make the hair come alive with shine and body. On natural hair colour, or hair that has not been chemically treated in any way, 3-in-1 gives hair a healthy conditioned glow and a shimmery tonal value.
function myFunction(id) {
var x = document.getElementById(id);
if (x.className.indexOf("w3-show") == -1) {
x.className += " w3-show";
x.previousElementSibling.className =
x.previousElementSibling.className.replace("w3-black", "w3-#929292″);
} else {
x.className = x.className.replace(" w3-show", "");
x.previousElementSibling.className =
x.previousElementSibling.className.replace("w3-#929292", "w3-black");
}
}