Description
SELF-TANNING FOR BEGINNERS:
Whether you are a first-timer or a seasoned tanning pro, we can all use some hints and tips to achieve that flawless, natural finish and a lasting glow.
1. EXFOLIATE
Exfoliate the skin at least 24 hours before applying a self-tan to remove any dead skin cells and debris, so your skin is soft and smooth. This creates the perfect base for an even and lasting tan. It is recommended to use the Body Polish, as natural exfoliants will buff away any dry skin, and colour-correcting properties in the polish will cancel out any orange tones and uneven skin tone.
2. PREP IT
This is an essential tip. If you choose to remove body hair prior to tanning, do so 24 hours before any self-tan application. Waiting until just before applying can cause the tan to sink into open pores, resulting in an uneven, blotchy finish. Giving the skin a day to recover after shaving or waxing allows the pores to close.
3. OUT WITH THE OLD
Remove any old self-tan residue. If you are a regular tanner, remove any old self-tan left on the skin. Tan Eraser is designed to gently and effectively remove old tan to reveal a fresh base for the next application.
4. LEARN WHEN TO MOISTURISE
DO NOT moisturise or apply anything that could leave oil or residue on the skin prior a self-tan. Products like deodorant and perfume can restrict the tan from adhering to the skin, resulting in a patchy finish. DO moisturise drier areas like the elbows, wrists and knees with the Barrier Cream. This creates an invisible shield to protect these areas you do not want stained.
5. FIND THE RIGHT TAN
Pick the right tanning product for your skin tone. Everyone wants a different result for a self-tan, and this can differ greatly based on your natural skin tone. Some may want a light tan, while others prefer it dark. At this point, your skin is ready for a self-tan.
6. MAINTAIN YOUR TAN
Now that your self-tan is finished, you want to keep it lasting as long as possible. Pat yourself dry after showering rather than rubbing to ensure you are not removing any tan. Lightly exfoliate the skin with Body Polish every 2-3 days. Make sure to use plenty moisturiser afterwards. Hydration is the key to a lasting glow. You can top up your glow with the Gradual Tan. This moisturising lotion is perfect for tan maintenance. You can also maintain your shade using a custom cocktail with Tanning Drops. Mix these drops with your usual lotion or serum to keep your skin glowing.
---
THE GLOW DOWN
MEXICANA FLOWER
Enhances radiance & reduces redness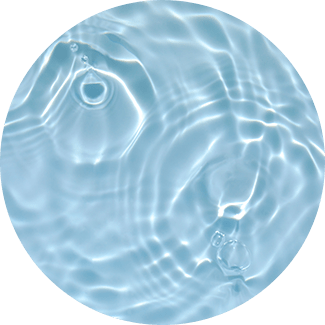 HYALURONIC ACID
The moisture magnet – retains moisture in skin & prevents development of fine lines & wrinkles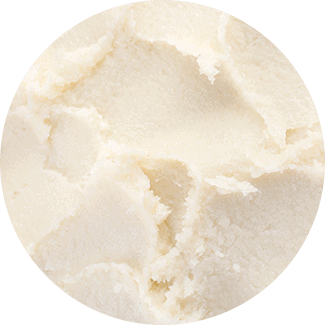 SHEA BUTTER
Powerful moisturising & nourishing properties
RETAIL
A range of at-home, self-tan products enhanced with Prolong & Protect tanning agent and naturally derived ingredients for a flawless glow.
---
A TAN FOR EVERY TONE
A SOLUTION FOR EVERY BODY
We got a glow up!
Crazy Angel understands that skin tones can vary immensely from person to person, so why can't tanning solutions?
Crazy Angel is not a typical tanning brand whereby you are limited to just light and dark shades. Everyone's skin tone is unique, so it's only right that your tanning solution is perfectly suited to your tone. Crazy Angel's selection of tanning products will suit all skin and body types, shapes and sizes.
Why Crazy Angel?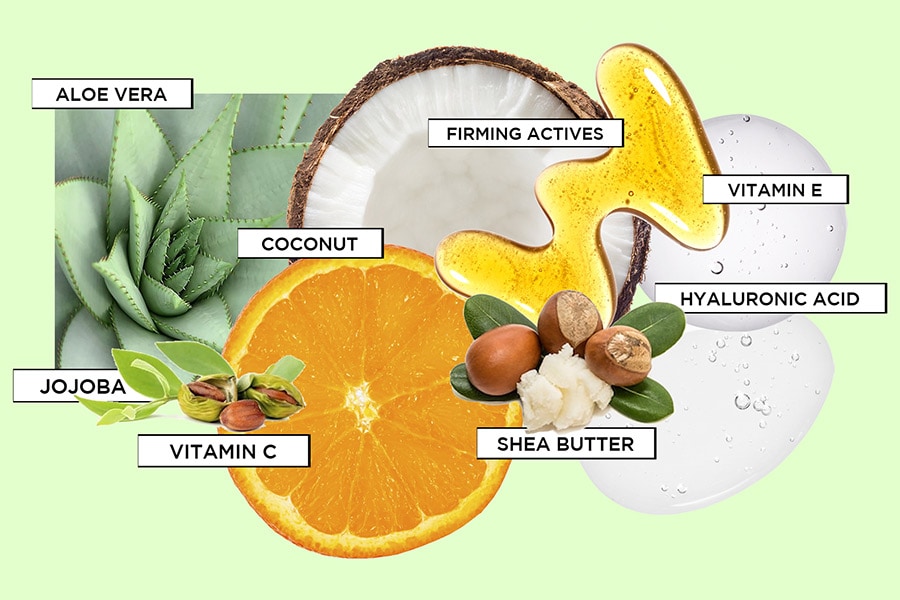 A NATURAL CHOICE
Crazy Angel is packed with the finest natural ingredients so your skin looks and feels as amazing as your new tan. Features standout ingredients like Aloe Vera, Coconut, Hyaluronic Acid, Shea Butter and Jojoba to complete your flawless tan.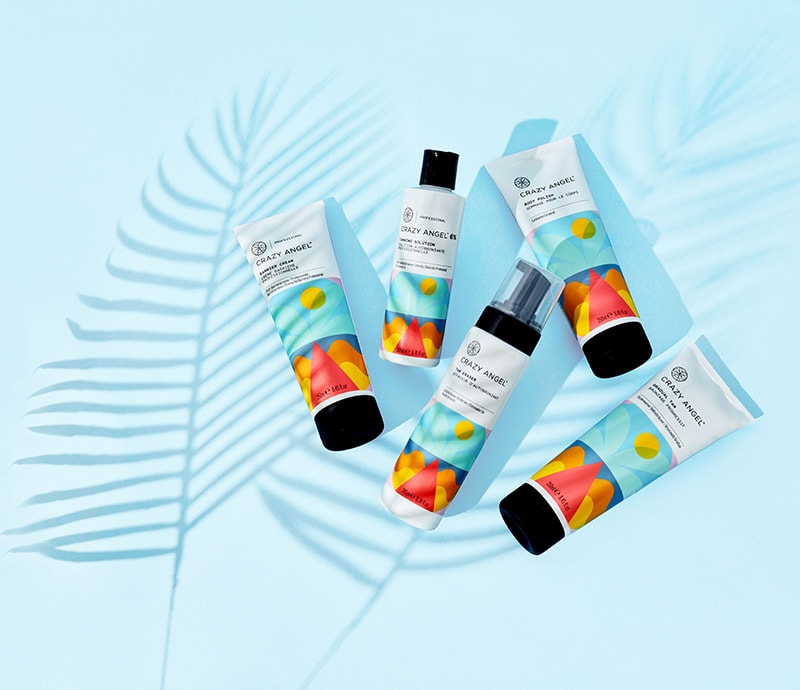 NO MORE GUESSING
Crazy Angel has everything you need to prepare for a professional quality tan. Prepare, achieve and maintain a glowing tan with Crazy Angel.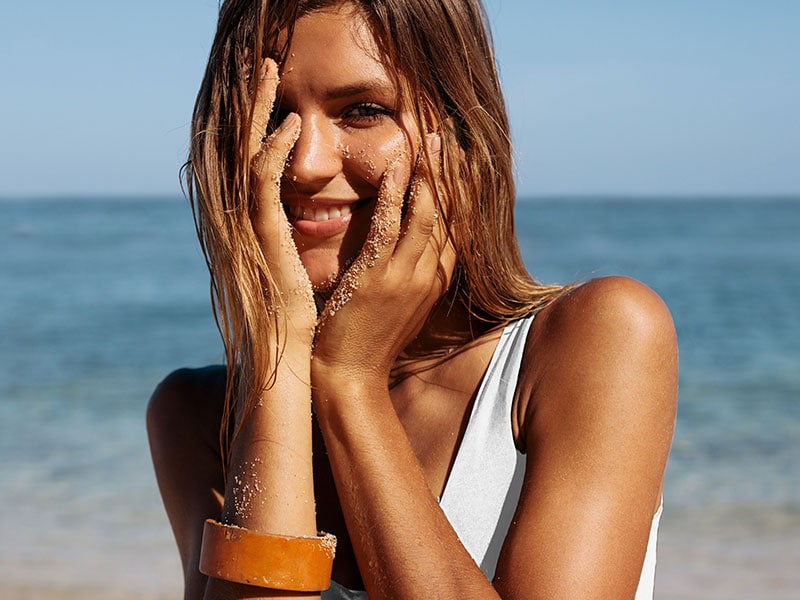 PERFORMANCE
Every Crazy Angel tan solution features their Prolong & Protect Tanning agent and naturally sourced DHA. This ensures a lasting glowing tan and a natural finish free of any streaks. Crazy Angels' skin firming technology also enhances the overall natural finish.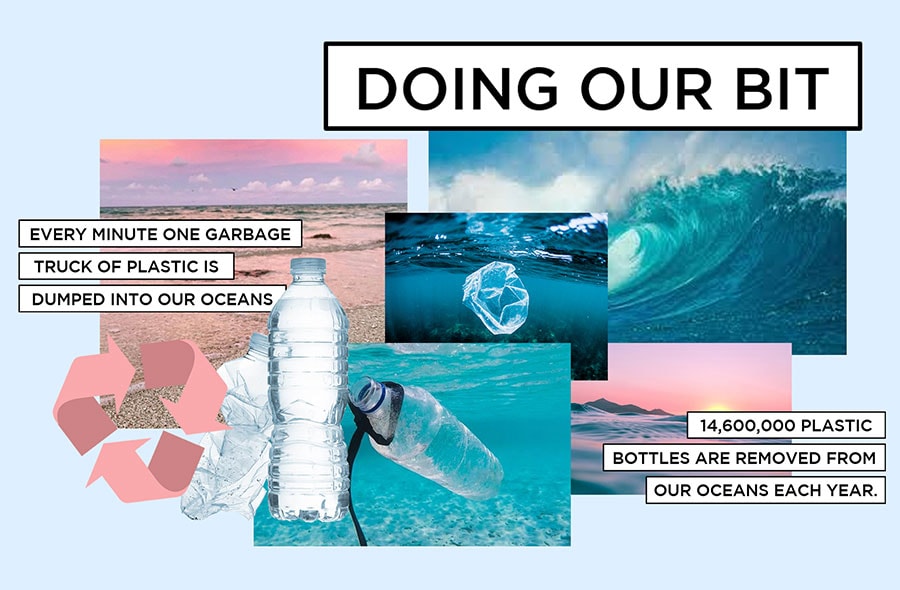 AWARENESS
Crazy Angel continuously searches for more ways to be more environmentally conscious. All packaging bottles are made from post consumer recycled (PCR) materials, reducing the need for additional single use plastics. Crazy Angel is also 100% vegan and cruelty free.
FAQ
---