Description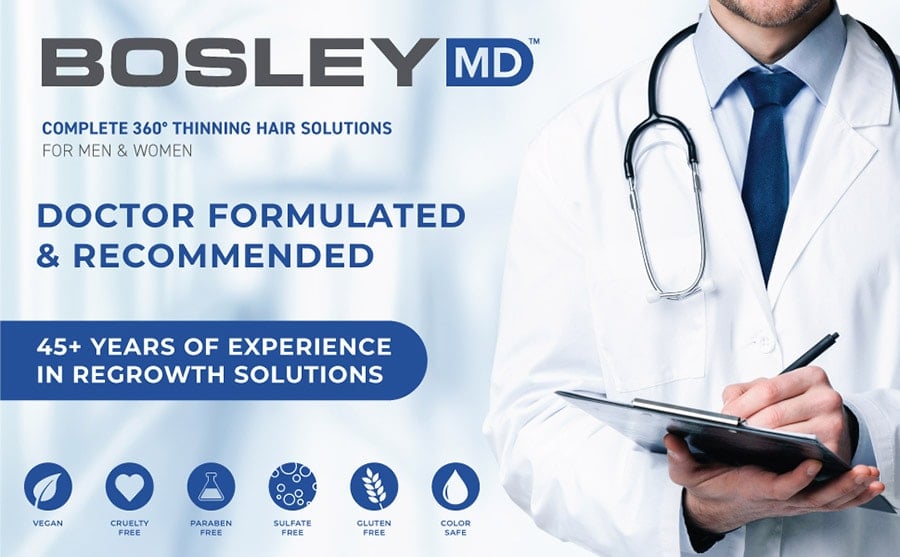 AS PART OF THE 360° APPROACH TO HELPING HAIR LOOK FULLER AND THICKER, BOSLEY PRO OFFERS TWO CATEGORIES OF SHAMPOOS AND CONDITIONERS SPECIALLY DESIGNED FOR WHERE YOU MAY BE IN YOUR HAIR JOURNEY: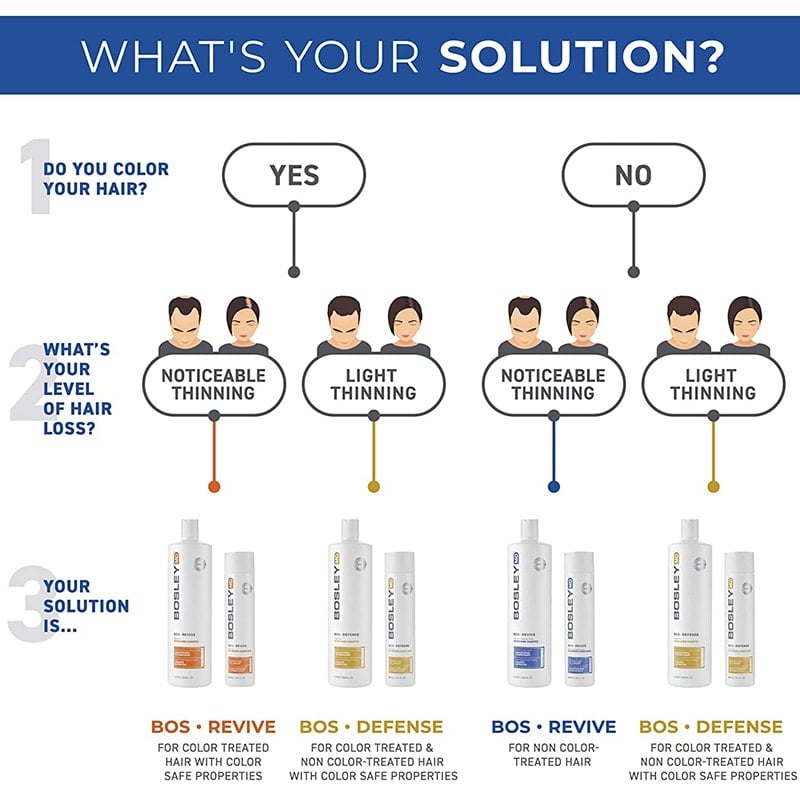 Still not sure which Bosley system works for you? Open this product flow chart for recommendations.
---

Concentrated Healthy Hair & Scalp Treatments.
360° HAIR & SCALP PROTECTION
A critical approach to creating thicker, fuller-looking hair. A concentrated, targeted line of treatment products for the hair and scalp. Ideal for men and women.
---
The Thinning Hair Authority™

The world's most recognized and trusted name in hair restoration with 45+ years of experience in the field.
BosleyMD™, the best comprehensive thinning hair solution available today.
Solutions for Men & Women.
Introducing

 Developed by doctors, for you.
From shampoos and conditioners, to intensive scalp treatment products, to gender specific supplements and clinically proven hair regrowth options, BosleyMD offers solutions for anyone looking to combat thinning hair or currently struggling with hair loss, thinning, or weak hair.
---
What causes hair loss?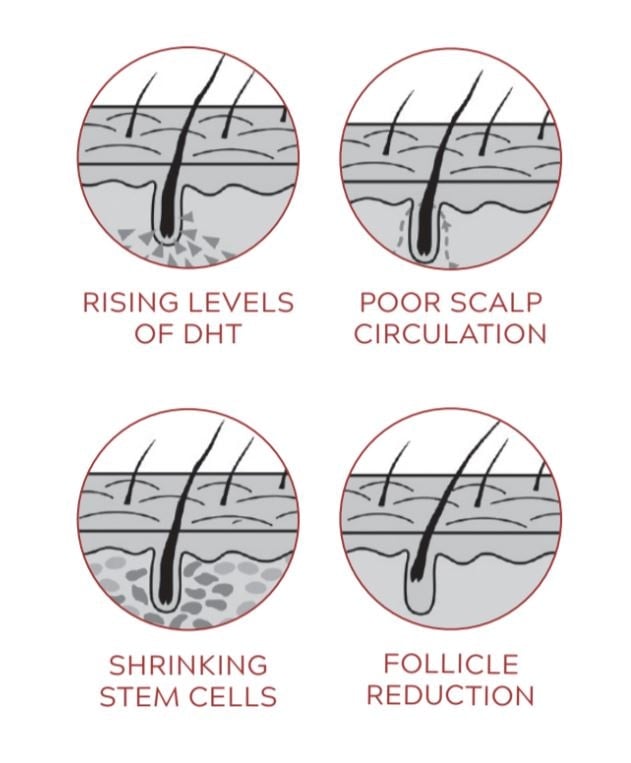 The degree of thinning can vary due to external factors, such as stress, or internal factors such as aging, genetics, quality of health, medication and sensitivity to the hormone Dihydrotestosterone, or DHT. While everyone produces a varying amount of DHT naturally, men and women sensitive to the hormone can experience Androgenetic Alopecia, or 'pattern baldness.' Typically, hair on the top, front of the head and crown are the most sensitive to DHT. Over time, this hair will become weaker, finer and may eventually stop growing.
What kind of hair loss does Bosley treat?
Hair loss and thinning occurs mainly for men but can impact women as well. The leading cause of hair loss for men is male pattern baldness, also known as androgenetic alopecia. This occurs in men whose hair follicles are sensitive to the hormone dihydrotestosterone, or DHT. Over time, DHT-sensitive hair (usually found on the top and front of the head) becomes weaker and finer and eventually stops growing. Most men have DHT-resistant, healthy hair follicles around the sides and back of their head, leading to the common horseshoe hair pattern on the head. This is the most common cause of male hair loss, accounting for more than 95% of all hair loss cases.
Male pattern baldness causes your hair follicles to gradually shrink over time until they stop regrowing. Without proper attention, it can eventually progress to the point where only hair on the sides and rear of the head is left. With timely treatment, this outcome can be prevented.
Hair loss for women can be related to genetics, hormones and age. Female pattern hair loss is one of the most common causes and this may be caused by a serious medical condition that needs proper attention and treatment as early as possible. The hair loss patterns in women usually differ from those in men.
The good news is that pattern baldness is treatable. Bosley's range of at-home products work to remove toxins from the hair and scalp so hair follicles remain healthy to grow as thick as possible. This includes the removal of DHT, the most common hormonal cause for baldness. Bosley has a range of products to treat hair already undergoing hair loss and thinning as well as a range for hair loss prevention for the future. It is much easier to prevent hair loss from starting than treating it when it has already begun.
Other common forms of hair loss or thinning can also be caused by varying forms of alopecia, thyroid issues and medical reasons. It is recommended to seek professional help these causes are the reason for your hair loss.
---
Why Bosley?
Bosley is the world's most trusted and experienced hair restoration expert with their services and products. Over the past 40 years, Bosley have pioneered the art and science of hair restoration for both men and women using world-class clinical resources, research and technology.
Bosley have performed more than 300,000 hair restoration procedures with patients and have helped millions more find answers to their hair loss and hair restoration situations. Their compassionate physicians and counselors understand the challenges of dealing with hair loss and are dedicated to helping anyone with hair loss and thinning. Bosley's research, development and experience with hair restoration treatments has led them to formulate a range of at-home treatment products for noticeable improvements in hair loss for thicker hair. Each product encompasses Bosley's pioneering and award-winning experience in the field of hair loss.

BRAND RECOGNITION
BosleyMD is the #1 choice for treating hair loss and thinning.
DOCTOR RECOMMENDED
All products are formulated in collaboration with Bosley doctors to ensure the most effective results.
GUARANTEED TO WORK
BosleyMD care products promise thicker, fuller-looking hair in 30 days.
FORMULATED FOR MEN & WOMEN
Category-leading gender specific products and clinically proven hair regrowth solutions to suit each individual need.
TARGETS THE TWO BIGGEST GROUPS OF CONSUMERS
Those looking for protection and prevention from
thinning (typically a younger audience), and those having noticeably thinning hair that needs a thickening boost (typically an older audience).
THE MOST COMPREHENSIVE & EFFICIENT ASSORTMENT ON THE MARKET
BosleyMD encompasses a 360 degree approach
to scalp and hair health. Their product range includes DHT blocking shampoos, weightless conditioners and thickening treatments, volumizing styling products, healthy hair growth supplements and clinically proven hair regrowth treatments.
---

compared to other brands:

Key Ingredients


---
Key Bosley Product Ingredients:
 

Apple Stem Cell Extract

Anti-aging ingredient that may induce cellular renewal

Imparts youthful, healthy looking hair

Age-delaying properties

 

Rosemary Extract

Antioxidant plant-based oil

Reduces scalp inflammation

Increases scalp circulation

 

Caffeine

Inhibit the effects of DHT on hair and scalp

Increases scalp circulation and promotes healthy hair growth

Enhance hair shaft elongation

 

Vitamin D

Key determinant of richer, healthier hair

Helps reduce stress-related damage

Contributes to follicle health

 

Pumpkin Seed Extract

A natural DHT blocking ingredient

Rich in vitamins and minerals

Interrupts the conversion of testosterone into DHT

 

Saw Palmetto

Helps inhibit the action of DHT

 

Sea Kelp Extract

Rich in vitamins

Helps prevent breakage

DHT blocker

 

Soy Proteins

Natural DHT blocker

Increases circulation on the scalp, promoting healthy hair growth

 

Sunflower Seed Extract

Rich in vitamin E and density-promoting omega 3 fatty acids

 

Biotin

Strengthens existing hair follicle

Supports hair, skin and cellular health

Promotes healthy scalp tissue

 

Niacin

Reduces shedding

Promotes scalp circulation

Reduces inflammation

 

Zinc

Maintains healthy hair

Supports cellular health

Low levels can cause hair loss

 

Witch Hazel Extract

Tightens scalp tissue

Reduces shedding

 

Bamboo Charcoal

Absorbs excess oil and debris

Detoxifies scalp

Promotes clean follicles

 

Sugar Crystals

Offers gentle scalp exfoliation

Prepares ideal foundation for hair growth

 

Horsetail Extract

Strengthens connective tissue

Reduces inflammation